Trigger Warning: The following article includes conversations on mental health and wellbeing.
We are very excited to announce that one of our members is participating in the Laps For Life Challenge this March! Donna is one of our incredible members who you may have seen around the facility before, or you may remember her from when she completed the Laps For Life Challenge last year…or possibly even from the year before that.
This year she has challenged herself to participate again, and to swim an unbelievable distance of 40 kilometres. And the best part about all of this, is that Donna will be swimming the entire challenge here at Melton Waves. 
To find out more about her ongoing support and participation in the Laps For Life challenge, we took some time to sit down and talk to Donna. "When you're young and don't quite know who to talk to, or you might not want to talk to your GP or your family doctor. It can be quite a confusing time." expressed Donna.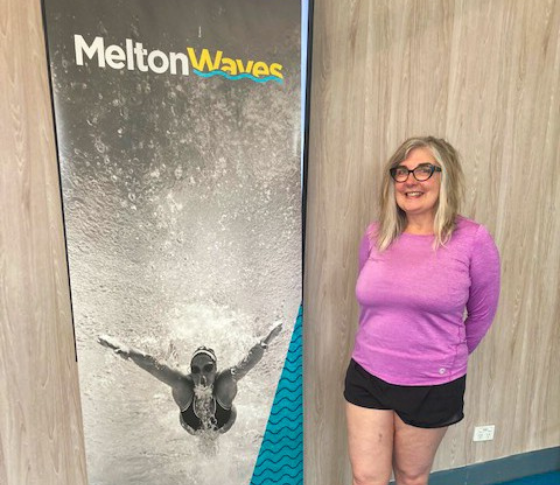 She then explained that the cause holds a special part of her heart "My son, he is 15 and he's good. A few years ago, about 5 years ago now, he had a really tough time at school. And it was so difficult to navigate those challenges, through the school and just knowing what to do….He had an experience of being bullied at school, and the teachers were sort of blind to the perpetrator. It took a while to sort through, and get to the bottom of it all. We overcame it eventually, but it was just a difficult time."
When asked about how she had heard about the swimming challenge originally, Donna said "It popped up on Facebook, it just sort of caught my eye, and I thought 'oh actually I could do that'. The first year I did it, I raised just under $300 and my goal was low. It was 20 kilometres. Last year I was a bit more motivated because we were coming out of lockdowns and things like that, and I had just spent a bit too long on the couch." Like all major fitness challenges, it is important to train before attempting to compete.
"Last year because we were going through lockdowns, I was doing personal training online. I noticed that because I kept doing that, when it came to doing the swim I was a lot stronger, I wasn't getting as fatigued. So it does make a difference if you do keep it up. This time round, I'm doing some boxing, I'm doing a 28 day challenge over February. And that's getting me motivated and I'm feeling a lot fitter than I did before. Because I've been swimming for a long time I gain that fitness back quite quickly. It does come back quite quickly if you swim every day," said Donna.
Her advice to all those considering taking part in the Laps For Life Challenge is "I would say just do it! You're only competing against yourself.  Just give it a go, it doesn't matter if you can't swim a lot, just participate. That's what it's all about and tell your friends about it. You don't have to be a gun swimmer, it's open for everyone, even kids can get involved. You can create teams, so even families can do it." To help support Donna and this amazing cause, click on the link below:
https://www.lapsforlife.com.au/fundraisers/donnasouthern/laps-for-life
So, what is the Laps For Life Challenge?
Laps For Life is a swimming challenge run by ReachOut and is dedicated to raising awareness around mental health in young people. According to the Laps For Life website, "more than 1 in 3 young people in Australia is currently experiencing a mental health difficulty. But there's an even bigger problem: more than 1 million of them are not accessing professional support. And, suicide remains the leading cause of death for 16-24 year olds in Australia." The Laps for Life Challenge will take place from 1-31st of March 2023.
To find out more about the Laps For Life Challenge, click here.
What is the ReachOut Program?
ReachOut is a dedicated safe online space for young people to seek support for mental health and wellbeing. ReachOut has a range of resources and support available. This includes:
One-to-one peer support 

Access to moderated online communities

Tips

Stories

Resources
Click the link below to access the ReachOut website:
https://about.au.reachout.com/ 
Why is this important?
A challenge like Laps For Life is not only about raising much needed funds, but it helps to raise awareness about mental health and suicide, as well as raising awareness about support networks (such as ReachOut) available to those affected. Our team would like to wish Donna the best of luck with her challenge. We cannot wait to see and hear all about it!
Support Networks:
If you or anyone you know are in immediate danger, call Triple Zero 000.
BlueFit would like to encourage that if this article has evoked any concerns that you can contact the following support networks:
Beyond Blue 1300 224 636
https://www.beyondblue.org.au/
Lifeline 13 11 14
You can also visit the ReachOut website for more information and support.